Dorothea Batiste
Edit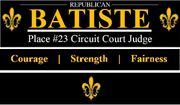 Dorothea Batiste is the Republican candidate for Circuit Court Place #23 in Jefferson County, Alabama for the November 2, 2010 general election. This seat is one of several in the Domestic Relations division of the Circuit which will be on the upcoming county ballot.
Dorothea Batiste is a private practice attorney practicing in 17 counties in Alabama, with offices in Birmingham and Huntsville. Prior to obtaining her law degree from Birmingham School of Law, she was a Social Worker and gained experience in this field, seeing the impact that divorce particularly has on children. The pursuit of praticing law and now accepting the responsibility of the bench, her desire is to lessen the destruction of the family unit and protect children from further trauma.
Background
Edit
Dorothea Batiste was raised on a family farm where she learned the value of hard work and was blessed with a large, close-knit family. Her parents had and continue to have an enormous influence on her life through their teaching, leading and life examples. With roots in Pinson, Alabama and early years spent in Marksville, Louisiana, Dorothea worked in a variety of fields including journalism and community development before pursuing her higher education at the University of Alabama at Birmingham where she attained her Bachelor of Social Work.
Principles
Edit
Batiste has built her Circuit Court campaign on Courage, Strength and Fairness:
The Courage to stand firmly for what is in the best interest of the children.
The Strength to handle the job in an efficient and orderly manner.
Fairness to abide by the law while not further disassembling the broken family.
Ad blocker interference detected!
Wikia is a free-to-use site that makes money from advertising. We have a modified experience for viewers using ad blockers

Wikia is not accessible if you've made further modifications. Remove the custom ad blocker rule(s) and the page will load as expected.